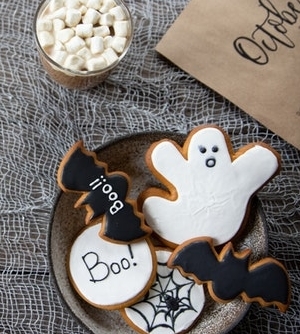 Are you preparing for Halloween? You may be wondering about the best healthy foods you can prepare for a Halloween party. With your kids' help, rest assured you will have the best Halloween you have ever had. Not only that, but they will be so happy with all the great decorations you have that Halloween will be spooky and mysterious.
Try to spice it up and make it look like a real Halloween season. I will share with you some of the best healthy food ideas. In addition to the crazy costumes, treats, sweets, chocolates, and junk food, let's make healthy Halloween food! All these organic foods are easy to make, even with your kids.
1. Vegetable Skeleton
Vegetables are one of the most nutritious foods around. Well, at times, kids don't like eating vegetables, even with the great nutrients they provide. What about making this Halloween season different? Prepare the vegetable skeleton with them! Children are known to be creative. The idea here is to create a body made of vegetables.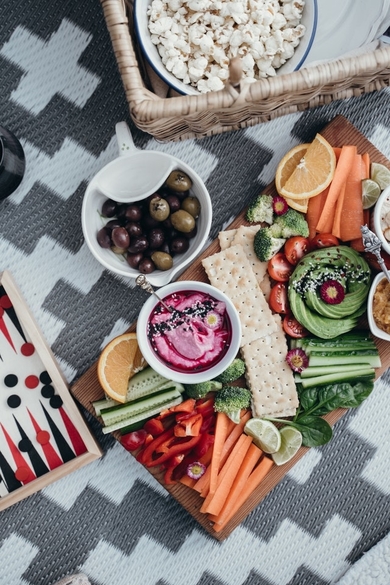 Ideally:
i) The head can be spinach to represent hair.
ii) The face can be some nutritious soup/vegetable dip.
iii) The ribs can be made of capsicum (bell pepper) cut neatly. The bell pepper comes in a wide variety of colors, why not use different colors? They are also great for salad mixes.
iv) Use cucumber as the inner body running from top to bottom.
v) Use carrots, mushrooms, broccoli, tomatoes, and other vegetables to finish your skeleton.
Who can refuse such a great dish?!
2. Caterpillar Grapes Mix
In this recipe, you will need green grapes. Pile up all the grapes on a plate, then add some black cake-cream / black chocolate on the upper part of the grapes to act as eyes. Who could say no to such adorable fruits?
You can mix the fruit plate with strawberries, blueberries, and other related fruits. Make the fruit mix look as adorable as possible. You can even get ideas from the kids, they won't say no to such beautiful fruits.
On top of that, you can even create a spider-like feature using grapes and avocado. The large avocado can be in the middle, then connect the blueberries or grapes to form a spider. Do this with your kids to make the experience worthwhile.
3. Egg Eyeballs
In this recipe, simply boil a couple of eggs at the same time for around 30 minutes. Once they are done, cut them into halves vertically.
You can then add a few green olives on top of the slit egg or any spice to decorate it. Preferably red spices – it brings a little creepy look, which is what we are looking for, right?
In addition, you can place spider-looking features on top of the cut eggs. All you need is to cut the eggs in half vertically and remove the yolk. Then stir the yolk, some mayonnaise, mustard, salt, and pepper together.
Cut the olives in half with one acting as the spider's body and another acting as the spiders' legs.
Also, you can use the boiled eggs and add faces to them. You can use a black cream to add to the face. Spooky, right?
4. Stuffed Bell Peppers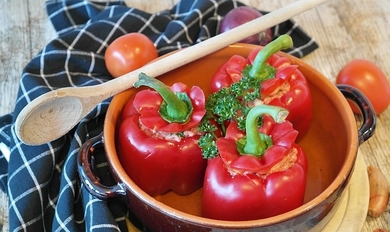 Some more healthy food you can make is stuffed bell peppers. Make sure you cut eyes, a nose, and ears on the bell pepper. What a creative way to add food to bell pepper!
Make sure you get your kid's help to make it look great. Whether you stuff in rice or noodles. This is a great way to make healthy Halloween food!
5. Spooky Pudding Breakfast
You will need to prepare some delicious breakfast for the day. Healthy pudding is ideal for breakfast; it can also be ideal for dessert! What do you think?
All you need is pepita seeds, coconut nectar, dairy yogurt, a ripe banana, fresh spinach, flaxseed, flax oil, lemon juice, and green grapes. First, ground flaxseed and pepita seeds on a plate. Then prepare the serving dish by dabbing a knife in the coconut nectar and adding the pepita flax mixture.
Add the remaining ingredients – except for grapes – to the blender. Blend until smooth. Then stir in the grapes in the mixture. Vualah!
6. Melon Monster
Do you love melons? Why not make a puking monster melon! You simply need to buy a big melon. Create an entrance on one of the sides and make teeth-like structures. After that, chop different fruits like mangoes, pineapples, strawberries, pawpaws, and melons, and add them into the watermelon.
The fruit should look like they are being spilled from the melon's mouth. As easy as that! Make sure to have a plate with more fruits or you can combine everything with the caterpillar grapes. Exciting, right? You can add cucumbers with a grape on top of the melon to act as the eyes.
7. Pumpkin Guacamole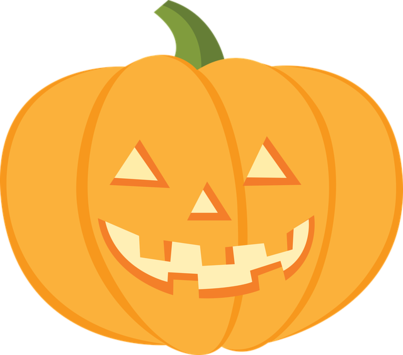 I assume you know how to make guacamole that mainly consists of avocado mixture. Why not use one of the pumpkins? You just need to shape them well. Then have guacamole in front of the face of the pumpkin. Amazing, right?
Let it seem like the pumpkin is eating the guacamole. It may look gross but your guests and kids will love it. You can also have witch fingers there. Just peel carrots, then add some food-like nails on the front.
8. Monster Wraps
This is another healthy food that you can create for Halloween. You can cook pancakes, then add some veggies, meat, or any other great food inside. Then wrap it well.
On a plate you can have four of them, then add creepy faces made of different food on tops. You can then surround the plate with sauce to make it look like blood. Spooky, right?
9. Witchy Guacamole Dip
Guacamole can also be used to create a spooky surface. Put guacamole on a plate, surround it with well-sliced carrots. Then add well-cut cucumber eyes and other foodstuffs that can be added to make a face. It should look as creepy as possible.
On the side, you can cut a bell pepper well and stuff in well-cut broccoli, onions, veggies, and much more. On the side, you can also add some well-cut apples, then leave a space for the mouth that can be represented by a half strawberry.
10. Eyeball Pasta
Last but not least is the eyeball pasta. Just make regular pasta. Cook it well. Then make meatballs. Add some tomato sauce on top of the pasta, then place the meatballs on top of the pasta and add some eye-like shapes (using black olive and whipping cream) on top of the pasta.
Make the best Halloween foods with healthy ingredients this year!
Any of these great food recipes can help you to have the best Halloween ever in a healthy way. You kids will greatly appreciate the experience. When you involve your kids it's going to be exciting. All these methods are cheap, easy, and fun; choose a few and start preparing your unique healthy Halloween party!
Happy Halloween!