Terrariums are an old-fashioned way of growing plants indoors. They were first discovered in the early 1800s by a botanist, Nathaniel Bagshaw Ward. He sealed a moth inside a glass jar with damp soil and a week later he noticed a small fern had started to sprout.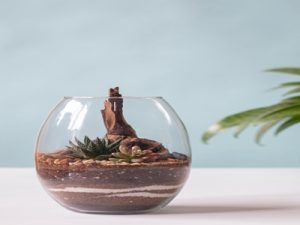 He also noticed the walls of the glass jar were moister during the day. The condensed moisture would fall back down into the soil as droplets. This created a conducive environment with constant humidity for plant growth.
It was later known as the Wardian case and quickly spread among the English during the Victorian Era. They used this method to grow and transport plants from different places.
These Wardian cases evolved to what is known as terrariums today. They can be found almost anywhere from homes to offices. 
The Types of Terrariums
There are different types of terrariums, open and closed terrariums. Open terrariums are in an open-air container with plants that require more air circulation and sunlight but do not depend on a moist environment to grow.
Closed terrariums are made inside a container that is completely closed. The container can either be glass or plastic.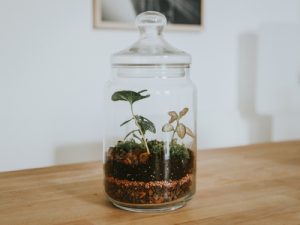 In my opinion, glass terrariums are more aesthetically pleasing compared to plastic terrariums. Although certain glass containers are made specifically for terrariums, you can use any glass container.
There is no need to break the bank to get yourself one, especially if you are a beginner; there are various other recyclable items you can use to create a terrarium.
When choosing plants to keep inside your terrarium, pick those with similar requirements that vary in shape, size, texture, and color to create something unique.
Similar requirements include:
Frequency of watering

Humidity required

Amount of sunlight

Air circulation

Type of soil
You can also read my recent article on how to create a terrarium. Here are a few plants that grow well in terrariums.
Moon Valley (Pilea Involucrata)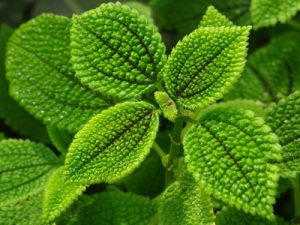 This fast-growing, deeply textured plant is such a unique addition to your terrariums. It has two-toned leaves with a red tint on the underside. Do not be shocked if it sprouts some pinkish flowers too.
This makes it stand out in a terrarium with other green plants, making it the perfect match to add that pop of color to your space.
It is capable of growing up to 12 inches tall and wide, making it an extremely good option for growing in any glass jar.
Starfish Plant (Cryptanthus Bivittatus)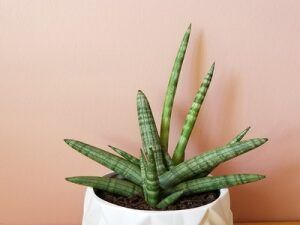 A species from the bromeliad family, the starfish plant is yet another unique plant perfect for your terrarium. It grows to a maximum length of 6 inches. Its slow growth rate makes it efficient to produce in small glass jars.
It has strap-like leaves that appear to glow with colors ranging from maroon, white, and deep green. These colors change with the intensity of light. In addition, the plant can bloom with a tiny white flower in its center.
The Nerve Plant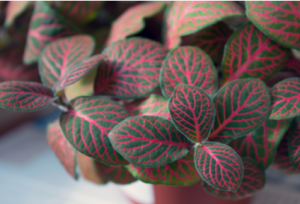 If you are a lover of tropical areas, then this is your go-to plant. It adds a tropical theme to your space instantly. This plant grows well in moist and warm environments. A closed terrarium ideally offers these conditions.
Even when mature, the nerve plant grows to a length of just 12 inches. This makes it perfect for small glass jars as it fills the room with tropical vibes.
Aquamarine (Pilea Glauca)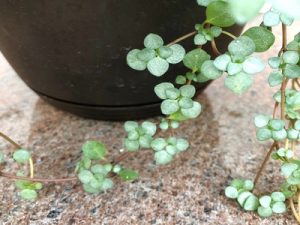 Aquamarine is a small plant growing up to 12 inches at maturity. This makes it fit well in terrariums. It has small rounded leaves which are silvery-blue and have tiny variegation speckles.
It grows low, close to the surface, and is densely matted, making it a great base for other plants in your terrarium. 
Moreover, it grows in low light and high humidity, so it can be placed anywhere in your room without worrying if it is getting enough sunlight.
The humid environment is sustained well by the closed terrarium. Its low maintenance makes it suitable for any climate.
Air Plant (Tillandsia Stricta)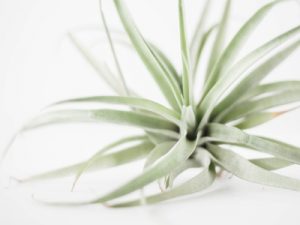 It is a highly variegated plant with funnel-like purple, blue or pink flowers at the top of its thin pale green leaves.
It is one of the most highly recommended textured and colorful plants if you want a statement piece when decorating your indoor spaces.
Not only does it thrive indoors in terrariums, but also does well as an outdoor plant.
Golden Clubmoss (Selaginella Kraussiana)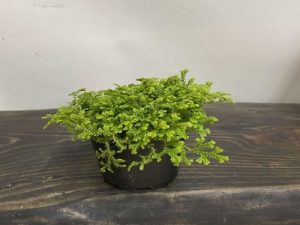 This plant has bright green foliage that can breathe life into a terrarium filled with dark green plants. When mature, it only gets to 6 inches long but can grow up to 2 feet across.
You need to keep a close eye on it and trim it now and then to stop it from overtaking the other plants in your terrarium. Once you trim it, you can use the cuttings to propagate other new plants either indoors or outdoors as a ground cover.
It does well in moist but not wet soil with high humidity which is the environment provided by the terrarium if closed appropriately.
Variegate (Peperomia Caperata)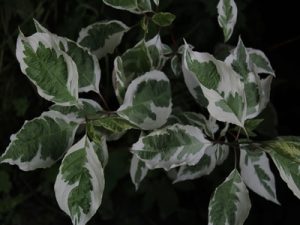 The leaves are mostly green in color, but this plant has a twist. It's not a regular green-leafed plant; its leaves are wrinkled slightly more than usual, creating a different contrast to other plant patterns.
It grows and stays about 6 inches tall but may require some leaf-cutting once in a while to stop it from spreading. It likes low but regular lighting and moist but not wet conditions.
Variegated Spider Fern (Arachnoides Simplicior)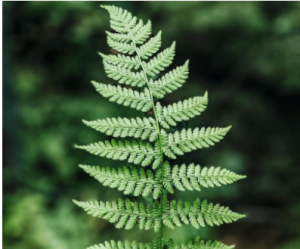 This is another plant that can give your terrarium an instant glow. The glossy leaves have a yellow band down the center that easily differentiates them from other similar-looking plants.
The spider fern grows easily in low lighting, moist and high humidity. The thing about this fern is that it will eventually outgrow your terrarium, but worry not!
You can easily move it outdoors to a shady area and it will continue to thrive well with its distinguishable characteristics.
Minimus Aureus (Acorus Gramineus)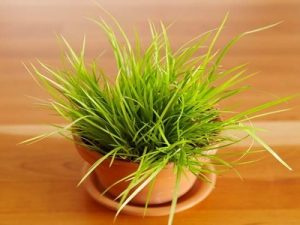 The Minimus grows low and looks grassy. It can cover the inside of your terrarium with bold golden foliage. It loves moist environments created by the terrariums.
You can water it once in a while, but in most cases, it will not require that for a few weeks.
With the right conditions, it may bloom some really small but highly noticeable yellowish-green flowers.
Black Mondo Grass (Ophiopogon Planiscapus)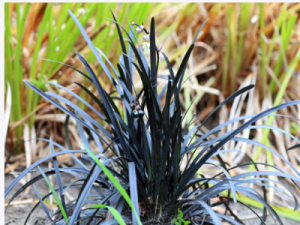 It has strappy leaves that change color from green to black as it matures. During springtime, some delicate flowers may start to appear.
This plant grows up to 15 inches tall, so it is suitable for larger terrariums. It is also low maintenance and does not require misting since the moist conditions in the glass are enough for its growth.
Start Creating Your Unique Terrarium!
Terrariums are miniature ecosystems that are self-sustaining. Since a majority of them are closed, the condensation from evaporated water helps keep the soil moist and maintains humid conditions that facilitate the growth of plants effortlessly.
Inside your terrarium, add small pieces or powdered activated charcoal to act as a filter to clean and remove odors from your terrarium. This also stops mold or algae from growing.
Avoid adding fertilizer to your potting soil to prevent the overgrowth of your plants so that they can grow slowly and steadily in their jars.
Image Courtesy: Unsplash.com, pixabay.com, Wikipedia, interiorplants.ca, Pinterest, and urban sprouts