Nowadays, people enjoy having plants in their houses as much as they enjoy pets. Indoor plants bring life into your living space, be it your home, office, or dorm room.
They also have some health benefits on top of aesthetic pleasure. Not only does it reduce stress but also reduces indoor air pollutants.
During the COVID-19 pandemic, it is important to find ways to use your free time while working at home. One of the things you can do is decorate your house with indoor plants.
When looking for indoor plants, find the ones that will thrive where you live. These hanging indoor plants generally come from warmer climates around the world, thus making them adaptable to most climatic conditions.
You can also have a look at my recent article on the top plants you can use to decorate your home. 
The Benefits of Having Indoor Plants
Benefit #1 – The best part about indoor plants is you can place them anywhere you want like the ceiling, tables, and walls. 
Benefit #2 – Hanging plants give your space an exotic look – almost like an indoor jungle. This is what makes them ideal for relieving stress and anxiety. 
Benefit #3 – Hanging plants mean that your kids and pets won't be able to touch them easily. This will protect them from eating the toxic sap that some plants have.  


The Best Pots for Hanging Indoor Plants
If you are looking into hanging plants in your home, you need to know the right pots to use to make sure your plants maintain healthy growth all through maturity.
Clay-based pots dry out quickly and are ideal for plants that require minimal watering.
Ceramic pots can retain water well and are best for plants that live in humid climates.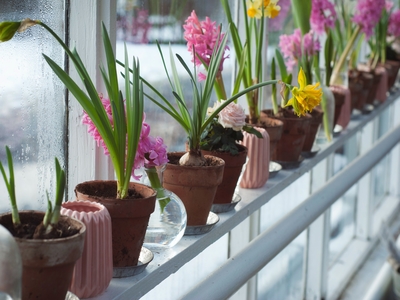 The size and height of the pots vary depending on the plants you want to grow. Wide pots allow the plants to grow horizontally with their leaves resting on the pots. Tall and narrow containers tightly dangle the leaves, creating a more vertical aesthetic. 
Hang long pots higher to stop them from reaching the floor and shorter plants lower for a closer look to match your interior perfectly.
Here are some of the different plants you can add to your indoor collection.


Spider Plant (Chlorophytum Comosum)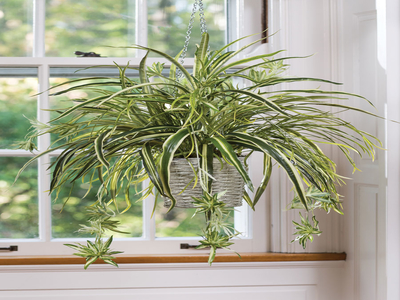 The spider plant – also known as the air plant or ribbon plant – is one of the most common indoor hanging plants. It grows beautifully, covering a lot of space with its variegated leaves.
With this plant, just a little pampering will do, and it will mature well. It can survive a drought and also likes a little bit of shade.
The best thing about this plant is that it is nontoxic, so you do not have to worry about your pets and kids coming into contact with it.
String of Nickels (Dischidia Nummularia)
This is an epiphyte. Its oval succulent-like leaves have silver variegations that make it stand out in a room with other plants.
The leaves are threaded along their wiry stems and can grow up to 3 meters long when maintained appropriately.
It grows on almost every surface, including wood, stone, and baskets. Nonetheless, it is best grown in well-draining soil.
Donkey's Tail (Sedum Morganianum)
Donkey's Tail is also known as Burro's tail and has a unique pale green color. It ideally turns your space into an indoor jungle. This is one of the hanging succulents that adds texture to any room with its fleshy leaves.
The donkey's tail is best planted in rooms with a lot of space. They need to be free to trail down without bumping into anything.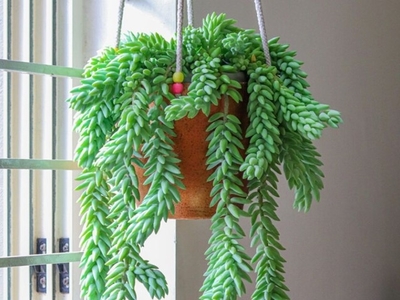 Peperomia Quadrangularis (Peperomia Angulata)
The leathery leaves on the Peperomia Angulata are pretty attractive and stay compact rather than being spindly like most hanging plants. The leaves are green and veined, and dangle down to about half a meter.
These plants should only be watered occasionally, letting them dry in between watering sessions. Put them in a room with bright lighting but not direct sunlight. Also, try to avoid draughty windows.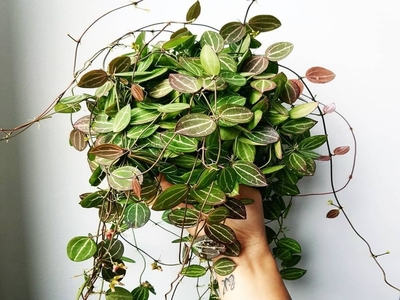 Philodendron
Philodendron is also called the sweetheart vine. This plant has large dark-green leaves that can fill out a hanging basket nicely. The leaf colors can vary, and some may have a splash of yellow, adding that pop of color that blends well with all interiors.
It grows to an extraordinary length of several meters, hanging down like a curtain. This is one statement piece that will fill your room with elegance to impress all your guests.
It is also very low maintenance; so, wiping the leaves with a damp cloth every once in a while to remove dust is the most you can do for this plant's survival.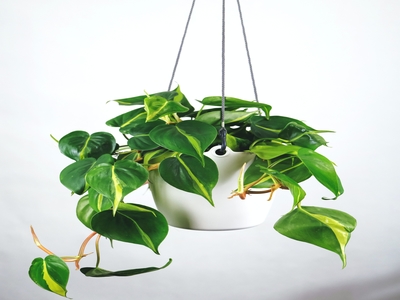 The Best Styling Tips for Indoor Hanging Plants
Finally, let me share some styling tips I have learned over the years of gardening. This will help create the perfect room filled with plants and flowers.
Tip #1 – The urban jungalow is my favorite style. The style is created by combining jungle and bungalow. You can hang your plants near industrial furniture and other greenery. Use those exposed pipes by training Ivy plants to climb them and turn your living space into a modern jungle.
Tip #2 – Macramé plant hangers are also a trendy way to spice up your indoor plants. Make a jute macramé hanger and tie chunky knots to secure your container for a rustic but elegant look.
Tip #3 – Another way is to make a Kokedama garden by wrapping the plant's root ball in moss then securing it with a string. Suspend it from the ceiling and feel exotic with this Japanese gardening style.
Tip #4 – Hanging terrariums for succulents and air plants are the perfect way to create a futuristic look in your space.
Decorate With Hanging Indoor Plants!
Most of these indoor plants require minimal watering, so check for well-drained planters to reduce overwatering. Invest in a spray bottle for spritzing the plants; this will increase the moisture levels.
Make your home look more natural with these amazing hanging plants. Also, don't create the mini-garden alone. Remember to include your children! They will feel happy being part of it. Make use of your spare time with a new hobby!
Image courtesy: Petals.com, Houseplants Guide, Pinterest, Yates, Gardeners path, Unsplash.com