Have you ever thought of decorating your house with indoor plants? Guess how beautiful your home will look! You can consider in-house decoration to make your home lively.
Not only do green plants increase the beauty of your home, but also have health benefits. Regardless of whether you are living alone, with your partner, children, or pets, indoor plants can suit any home.
Did you know that indoor plants reduce air toxins and improve air quality? In addition to that, research shows that they help reduce stress levels and improve your sleep. Yes, with all these benefits you may wonder how best to decorate your home.
As long as you provide proper care, you won't need to tender to them each day. They are not as demanding as you may think. While working from home, the plants will make you feel at ease. This is a great way of micro gardening in the house. 

1) Cacti and Succulent Stand-Alone Plants
These can be termed as "statement plants." You must be wondering, why the name! Typically, these are floor or table plants that can make a statement by themselves. These include cacti and succulent plant types.
They are the best choice because they require less maintenance. You just need to cater to them once in a while then leave them to grow.
In terms of watering, you just need to do it monthly. They mature to be big plants and are very noticeable.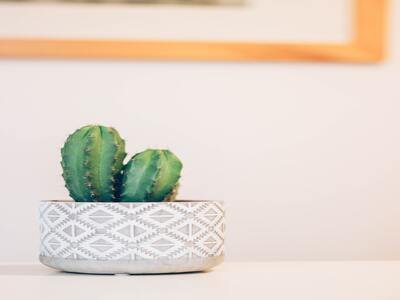 2) Fiddle Leaf Fig Tree Tropical Plant
Are you looking for an ideal tropical plant – why not grow a fiddle leaf fig tree? This plant has a unique height and structure. As they grow, the beauty will keep pleasing you. If you have a large tropical plant you can put it on a stand, reading table, or tabletop.
For the fiddle leaf fig tree, it is an ideal décor for boring corners. You just need to place it in a good spot, provide enough humidity, and maintain the soil wetness.
On the downside, it is not pet-friendly, hence if you have a cat or dog, think twice about your plant decision. Some other tropical plants you can try are Hoyas, banana plants, ferns, and orchids.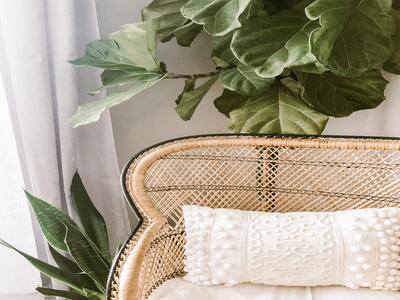 3) Swiss Cheese Indoor Plant
Another in-house decoration plant you can consider is the swiss cheese plant. It is also termed as the delicious monster. They are one of the most popularly grown indoor plants.
They have beautiful green leaves with some holes that make a statement in any room. They can grow within any amount of space. In terms of growth, they require a warm temperature away from direct sunlight.
While maintaining these plants don't overwater as it may cause root rot or wilt of leaves. These are climbing plants, hence providing a stake or trellis for support. This is an ideal hanging plant you can place in your living room.
Another alternative is to place it on a shelf with other plants to form a shelfie. You can brainstorm with your kids on where to place it.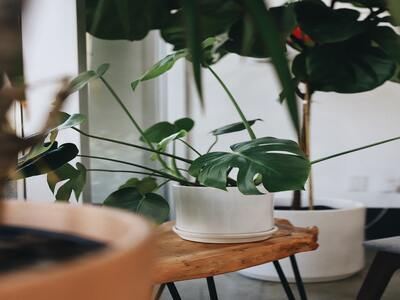 4) Peace Lily Indoor Plant
It is one of the most popular house plants. It has glossy, dark green foliage that grows to bloom white flowers. They grow well in bright indirect light. Hence, they can handle low light atmospheres.
This plant only needs to be watered once a week in warm months and less often during the cold season. Thereby, you won't have to keep monitoring the plant all the time. If you want to plant the peace lily, avoid using soggy soil. This can lead to plant root rot. Hence, ensure the topsoil dries out as you water – too much water can destroy plant growth.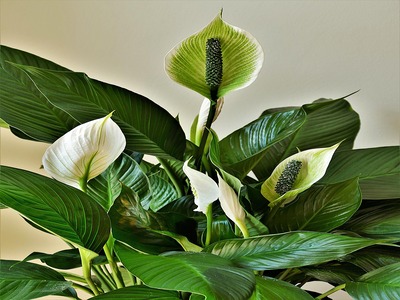 Once in a while, wipe the foliage to remove any specks of dust or dirt. Try to keep it away from children or dogs that may destroy the plant. The plant is slightly poisonous and can cause stomach discomfort when ingested accidentally.


5) Zanzibar Gem Indoor Plant
Are you thinking of getting an in-house low-maintenance plant? Well, the Zanzibar gem is one of the most low-maintenance plants you can grow in your house. Do you always have a busy schedule during the weekdays? Try this type of indoor plant! It has beautiful, deep, and green glossy leaves.
It is drought-resistant, so even if you delay in watering, it won't dry out. However, try not to overwater it; as too much water can destroy it. You just need to water it once a month and that's it. It thrives well in bright-light-shaded areas. However, it can also tolerate a shady spot.
Like most ideal indoor plants, try to keep them away from direct sunlight. You can add slow-release fertilizer for better growth.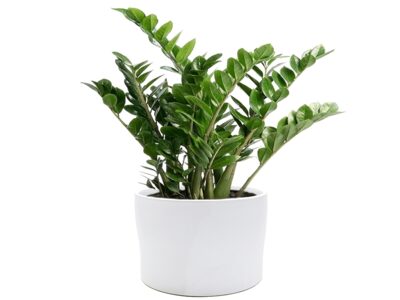 6) Rattlesnake Indoor Plant
Do you have minimal space and wonder what plant to grow? Why not try the rattlesnake plant? It is pale and has dark green wavy leaves.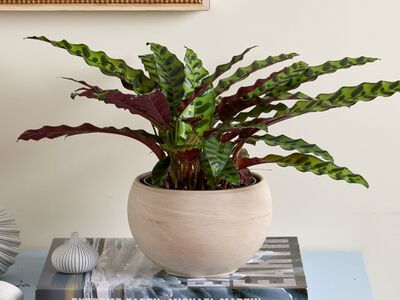 It is an ideal plant that you can have in your plant oasis. Try not to expose this plant to direct sunlight as it can cause the leaves to lose their color. Remember not to overwater a plant as it can get destroyed.
This is an ideal plant that you can assign any of your kids to take care of. Moreover, it is pet-friendly. During COVID-19, it is important to instill a sense of responsibility and discipline in your children. Taking care of plants is a duty you can add to the chore list.
7) Marble Queen Pothos Indoor Plant
What about trying out a hanging plant? Marble queen pothos is well known as the devil's ivy. It has ideal green leaves that have white or yellow marbling. Moreover, its long vines love to climb.
It grows well in medium to bright indirect light. If you overwater, the leaves will turn black while yellow if you are under-watering. It is a bit toxic to cats and dogs, so be wary about it.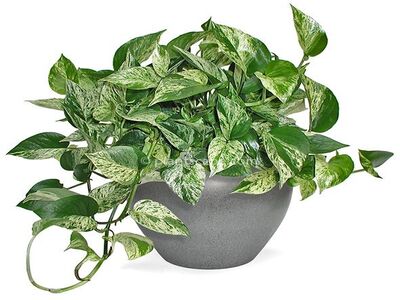 8) Aloe Vera Indoor Plant
What about trying out a plant that will be ideal for skincare? Aloe Vera is well known for its skincare, healing, and air purification properties. You can easily place it on the shelf or windowsill.
Aloe Vera has antioxidant and antibacterial properties that help in treating wounds and skin problems. It also helps to prevent plaque buildup in the mouth. On top of that, it accelerates the healing of mouth ulcers.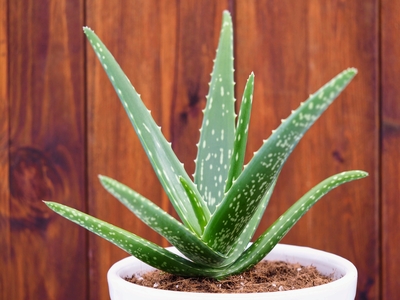 Are you having constipation issues? It also helps in reducing constipation. When it comes to skincare, it prevents wrinkling, retains moisture, and improves the skin.
It also helps to reduce blood sugar levels. What more would you want from an Aloe Vera house plant? It requires bright indirect sunlight. You just need to water sparingly. Moreover, the Aloe Vera plant is pet-friendly. If the leaves start drying, cut them off to allow the other Aloe Vera leaves to continue growing.
9) Spider Indoor Plant
Are you looking for a great water plant you can grow in your house? Why not try the spider plant? They have great foliage and you can grow them in a jar. Remember to change the water at least thrice a week.
Moreover, it is proven to have some health benefits. When it is placed in a room it can help reduce a people's blood pressure, pain, fatigue, and anxiety. It can grow very well even when neglected. It grows in both light and partial sunlight.
Do you have pets in your house? They are safe for pets and you won't have to worry about them being poisoned. Moreover, it is effective in removing carbon monoxide, formaldehyde, and xylene in a room. Imagine a safe haven for you at home.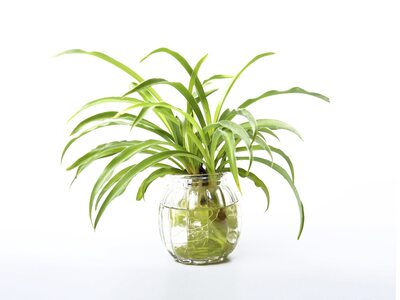 10) Dracaena Indoor Plants
This is another water plant that you can grow in your house. They can grow well in strong jars. Make sure to use chlorine-free water to grow them. Change the water frequently like thrice a week.
It is a great air-purifying plant that will ensure you breathe clean air. They also help to remove toxic gases that are harmful to human health. The dracaena plant can boost concentration and focus while in a room.
You can place it on your reading table and rate how well you will read. They also require low maintenance. Why not try this amazing water house plant?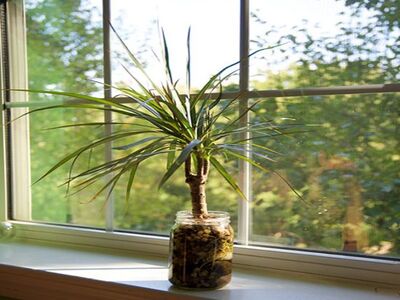 Decorate Your Home With Indoor Plants Today!
Indoor plants are great and most are normally small enough for a tiny desk, open shelf, or empty spots in the house. Hence, have a look in your house and if you see a space, occupy the space with a houseplant to make it more pleasant.
All these houseplants are ideal for any home. However, you need to be considerate of your kids and pets. Hence, decorate your home with a safe houseplant. Take the initiative to let your kid choose which plant to place in the house.
Image courtesy: Unsplash.com, pixabay.com, Pinterest