Did you know that there are 15,000 tomato varieties in the world? However, most tomatoes are grown depending on a region's climate and the tomato variety adaptability. That's why this beginner's guide on how to grow tomatoes is so important!
With the right gardening tools, you can prepare your land and plant your tomato crops. 
In selecting a site, make sure there is enough direct sunlight and members of the tomato plant had not grown there before. This is because some nutrients may have been depleted in the process.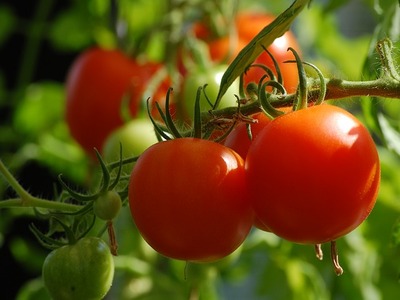 How to Choose & Prepare Your Soil
First, test the soil to see whether it is appropriate for planting. The type of soil is a significant factor when it comes to planting tomatoes. There is sandy, loam, and clay soil.
Loam or silt soil is the best kind of planting soil. There is a need for proper nutrients, organic matter, air, and water in the soil.
Clear the Land and Test for PH Levels
Choose an ideal area where you can plant your tomatoes. If it used to be bare land, you could remove any bushes that are in the area.
Test your soil to determine the soil PH. You need to be careful about acidic soils that can quickly burn the plants. The ideal PH level for tomato growth is between 6 to 7.
Soil Improvement
If your soil is not ideal, it can be improved by adding organic matter. It helps to loosen clay, sandy soil to retain more water and add nutrients.
Test your soil to find what is missing so you know what to add to improve it. You can make compost to add more nutrients to the soil.
Tilling
To till you need to dig 8 to 10 inches down. This helps loosen the soil and make the tomato roots grow deeper. Till the land when it is moist and not too wet.
Each year, add organic matter to the soil during soil preparation and practice crop rotation. 
How to Make Compost
In compost, you will need to clear an area of around 3 to 4 feet. Make sure you clear the land well to prevent any kind of impurities in the compost you will create.
Add kitchen waste, plant materials, manure, decayed matter, sawdust, and green manure to your compost.
You will then add some water and turn the compost regularly for proper air circulation.
Proper watering helps to make the compost better. Always add compost to your soil and mix with topsoil before planting to get the best result.
How to Plant Tomatoes
By now, you should have prepared your land. Make sure to dig soil 1-foot deep and mix with compost. Give the ground a break of like two weeks before planting.
Plant Tomato Seeds
You can purchase starter tomato plants from a nursery for planting. However, if you want to sow as seeds, make sure the soil is at 55°F.
The temperature should be ideal for planting at all times. You can either plant the tomato seeds outdoor or indoors. You can plant in small trays for a while indoors.
If you want your seeds to grow well, harden off the seedlings for a week before transplanting outdoor in the ground.
Always set them outdoor under a shade on the first day to harden. Increase the hours each day in direct sunlight. When they reach the right age, transplant them outdoor.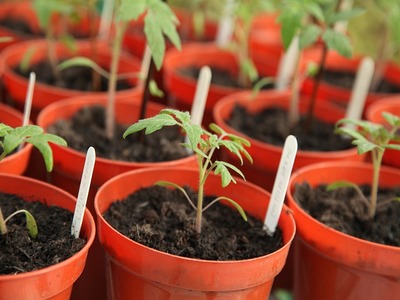 2. Transplanting Tomatoes
Transplant your starter plants outdoors when the temperature is at 60°F. Place the tomato stakes in the soil at planting. The use of stakes and cages is to keep the tomato fruit from the ground.
Add some bone meal in the planting hole to add phosphorus. One of the planting alternatives is placing the roots deep into the soil, leaving the bottom leaves just above the ground.
The second method is through laying long the leggy transplants in trenches of 3 to 4 inches depth.
Planting in Containers
If you want to plant in a container:
Make sure it has a diameter of about 20 inches; the container should have drainage holes
Use well-draining soil, preferably the potting mix
Choose the dwarf varieties and keep the soil moist
Row Preparation
You can decide to plant your tomatoes on a raised bed. This will allow water to drain well and air to enter the soil. It is essential when planting crops during high rainfall. If you have a large farm, you can make rows to plant several tomato plants.
Choosing the Best Tomato Variety
There are different types of tomatoes: Yellow, orange, red, and even purple. Some people prefer big tomatoes while some prefer small ones.
Disease Resistance
It would help if you considered whether the tomato is disease-resistant before planting. This can easily weaken the plants and reduce yields.
Check for a tomato variety that is resistant to soil-borne diseases. You will see a V or F after the tomato variety name.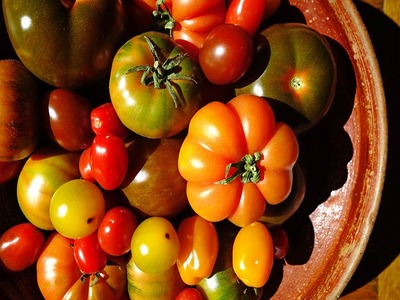 Growth Habit
You need to provide enough space for the tomato plant to grow. The two growth habits are determinate and indeterminate varieties. The determinate tend to grow up to 3 feet then concentrate on the ripening of the tomato plant.
For the indeterminate variety, they grow taller and require support. However, they require more attention from the farmer. If you have limited space, choose a determinate variety.
Harvesting Time
You need to know the best time that you will harvest the tomato fruits. So, depending on your needs, you can either grow slow or fast-growing tomatoes. Most tomato plants mature in around 60 to 75 days.
The Flavor and Texture
How do you like your tomatoes? This is a great determinant of the variety you should plant. It depends on how you will use your tomatoes.
The most popular varieties are Bush 506, Little Bites, and Juliet.
Maintaining Your Tomatoes
Watering
Water the plants early in the morning for the plants to have sufficient moisture. Ensure to water regularly during the first few days and continue as time goes by.
Try to avoid overhead watering and afternoon watering. Moreover, mostly water is at the base of the soil. Try to mulch five weeks after transplanting, as this helps to control weeds and retain moisture.
Fertilizing
You should have already added compost to the soil. Try to side-dress the plants with organic fertilizer after every two weeks. Fertilize the tomatoes for 3 to 4 weeks until frost.
Try as much as possible to avoid fast-release fertilizers. Don't add nitrogen-rich fertilizers.
Pest and Diseases
Whenever you note any infestation in the plants, look for the best solution to prevent the whole plant from being destroyed. Whenever you cut an infected part, ensure to destroy it by burning it to prevent infestation in other plants. Alternatively, you can control them using helpful bugs.
The major tomato issues may be fruit splitting, calcium deficiency, blossom end rot, and magnesium deficiency. The major pests include whiteflies, tomato blight, aphids, and mosaic viruses.
Pruning Your Tomatoes
If you are growing tomatoes vines, pinch off the suckers. This helps in air circulation and penetration of sunlight.
As the plants grow, trim the lower leaves from the bottom, 12 inches off the stem. When staking, tie the stems to stakes with rags or nylon stockings.
Pruning depends on the tomato variety and support. Pruning mainly entails removing suckers.
If you want to maximize the harvest, prune the suckers sparingly. Remove all that grows below the first flower cluster.
Harvesting Your Tomatoes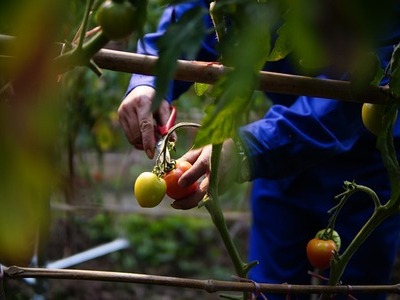 Always walk in your organic garden to check your tomato plants. Pick the tomatoes as soon as the fruits are ripe. You can note this through the color and size. This helps create space for the growth of other tomato fruits.
Wash and dry your tomatoes each time before storing them. If you don't use them in the next few days, lower temperatures will help preserve them.
Storing your tomatoes in the fridge will not keep their taste. 
Protecting Your Tomatoes in the Winter
As winter approaches, are you wondering how to protect your tomatoes? Whenever it is cold, your tomatoes can get damaged.
Here are the methods that you can use to make sure they remain as healthy as possible. These tips can be used on any kind of tomato you are growing.
Tip #1 – Test the Actual Temperature of the Atmosphere
First, test the temperature to see whether you should be worried or not. Whether you have planted your tomatoes indoors or outdoor, still consider checking the temperature.
Set the thermometer at the plant level to monitor the air temperature. Once you know the temperature, you can understand the best preventive method to take.
Tip # 2 – Cover to Protect your Tomatoes
If it is winter, it is advisable to cover your tomato plants using plastic or a tarp. If the winter will be for a while, use quality frost protection. Remember to remove the covering in the morning. Use large row floating covers on larger tomato crops.
Tip # 3 – Add Warmth
You can add light to add warmth to the environment. This is essential for the proper growth of your plant. However, don't allow the warmth to reach an extreme level.
Tip # 4 – Water Regularly
Did you know that well-hydrated plants tend to tolerate cooler temperatures than drier ones? So, make sure your plants are well watered. Additionally, try to put a jug of water near the plants. It can work wonders.
Tip # 5 – Grow Cold-Tolerant Tomato Variety
If you foresee planting your tomatoes during the cold season, why not consider planting the cold-tolerant variety? This will help to ensure your crops grow well. If possible, try to harvest the tomatoes that are ripe before the winter season.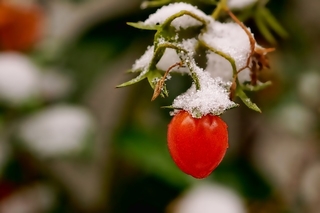 Learning How to Grow Tomatoes
For tomatoes, if you are a beginner, it is advisable to plant the starter tomato plants rather than from seedlings. Tomatoes need up to 6 to 8 hours of sunlight for the best growth.
You can use a stake, trellis, or cage to keep your tomatoes off the ground to prevent any disease infestation.
There is a need for proper spacing to make sure the plants grow well. The ideal soil PH is at 6 to 7 for tomato growth. The use of compost helps provide enough nutrients for tomato growth.
The use of mulch will help to reduce the prevalence of weeds. You can start harvesting your tomatoes after about 60 to 100 days. I hope you will now start to grow your organic tomatoes. There are also some other organic foods you can grow in your garden.