Watching your TV outdoors is a great way to take the fun outside. You'll need the right setting and enclosure to protect your TV set from damage from the outdoor elements. One of the best cabinets for this purpose is a weatherproof cabinet.
Today's guide breaks down the quickest way to build a weatherproof cabinet. You'll be able to create your own outdoor cabinet by the end of this article. So, gather your supplies, and let's start building!
How to Build an Outdoor TV Cabinet with Doors
The size of your weatherproof TV cabinet depends on the size of the TV and the mounting bracket you use.
Step 1: To choose the right cabinet size, measure the TV's dimensions, considering the depth of the mounting bracket. Make sure the wood parts are the same thickness. Running wood through a planer is an effective way to achieve an even thickness.
Step 2: Make sure you find an ideal viewing height before mounting the TV bracket. Remember to use waterproof electrical outlets.
Step 3: Start mounting the wood frame onto the surface after cutting it to size. The top and bottom pieces used in this guide are 56 W x 5.5 D, and the side parts are 30 W x 4.5 D. The top and bottom of the frame are deeper, allowing the doors to fit inside. As a result, the weather is better protected from the elements.
Step 4: It is now time to construct the TV cabinet doors. First, cut and assemble the required wood. Bear in mind that you'll need pieces on the outside to serve as structural support and as decorative pieces.
If there are no parts on the outside, use a jig on the inside to screw the panels together for greater support. The dimensions of the doors here are 30 x 54.75. The frame's sides are fixed in by 1/2 inch, and there is a 1/4-inch gap to allow for wood expansion.
Step 5: Attach continuous hinges to the door panel and then attach them to the outdoor cabinet. Make sure to precisely drill the holes to prevent the wood from splitting.
Step 6: Now, treat the cabinet with waterproof spray. You can choose any color of spray for this purpose. This spray, as the name implies, repels moisture, so your unit stays dry and protected.
Step 7: Lastly, attach a lock for securing the cabinet and finish off with a hook and eye on both doors to keep the doors open during use.
Conclusion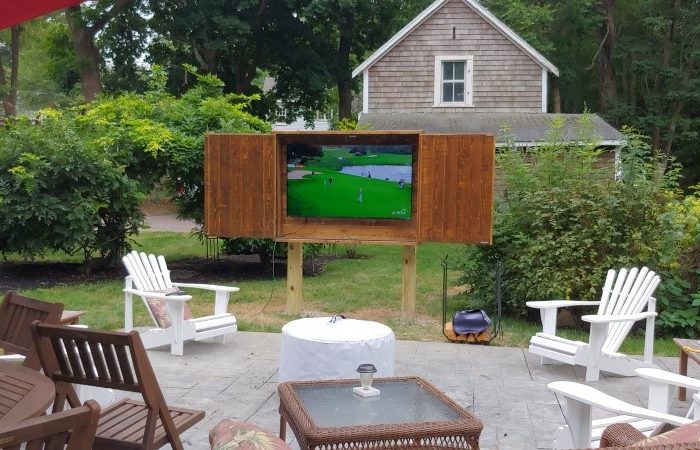 Follow these steps to make your own weatherproof outdoor TV cabinet. Remember to get the right equipment and parts for this project. That said, you can always buy a pre-made cabinet if you want to skip making it yourself.